Oh Lolla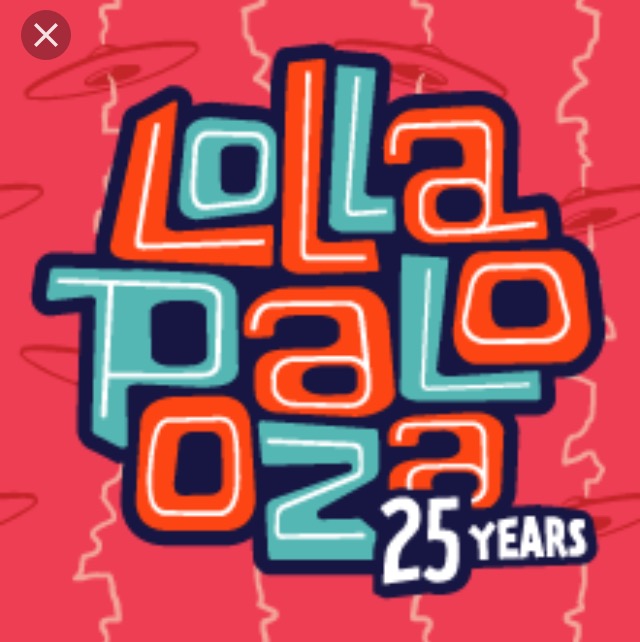 This past weekend was the festival that marks the end of summer for me, Lollapalooza. Not only does it mark the end of summer but it also marked the end of my youth-yes I'm going to be this extra but let me explain. For those that have never been to Lolla, let me give you a brief background. Basically it's a HUGE music fest filled with the sound of different genres and the smell of stale beer and drugged out teenagers. Usually the fest is three days long positioned at the end of July/early of August (running from friday to sunday). But alas, this year we were blessed by the gawds with an extra special treat. The fest was a whopping four days in observing the 25th anniversary of the musical extravaganza. So that meant not only was the golden ticket going to cost more but give one more of an opportunity to let loose. But of course my weekend didn't go as planned. This year Lolla started on Thursday therefore I arrived right after work-well after going to the bar first. To my surprise, Thursday wasn't too much of a sh*t show. It actually rained that evening, but what's a festival without getting a little rain. The headliner I was looking forward to seeing Thursday was J.Cole. I actually seen him in concert this time last year with Big Sean and they got my life together. It definitely was one of the best concerts I have been to. J.Cole is one of the artists that insanely talented, "woke" as the kids say, and seems like an all around genuine guy. As expected, he put on a phenomenal show. I just love how humble he is man. So anywho, Thursday was a nice start. But Friday, oh Friday, was a hot mess all the way around.
I took off work that day and decided to take advantage of my time off to run some errands I normally can't during the week, because adulting then I can play. As I took the journey to Lolla, there was a downpour because again, what's a fest without some rain and an exuberant amount of mud. And what do I wear instead of chucks, combat boots, or sandals; rain boots like the old woman I am. There was no way I was about to get my feet all nasty. Anywho, I saw some really good acts, Alessia Cara has a new fan, all leading up to who I really wanted to see...Future Vandross, Future Hendrix, Mr. Dirty Sprite himself. He was the perfect act to get me in the mood for that night. Of course, all the other young ratchets came out to partake in what he was going to bestow upon us. This is where the evening went left. Future wasn't the issue; baby put on a great show. It was the crowd. Like duh, you're at a festival so of course you're going to get bumped into and stepped on but it was excessive. I'm convinced these kids have no home training. One with some sense says "excuse me" if the other party is in their path, correct? When one bumps into someone, that said individual acknowledges it and pardon himself, correct? These kids are cut from a different cloth. Like they bump into you and look at YOU crazy. And don't even get me started on these boys. No manners and just plan ol disrespectful. I was ready to put a couple over my knee and tag that ahhh. But Future brought me back to my happy place.
I didn't make it to the other two days at Lolla. Long story short, I was too tired to go Saturday because I thought it was a good idea to be out at all kinds of hours of the evening. And I didn't go Sunday because Saturday night/Sunday morning I thought it was a good idea to lose my phone (AND ALL MY BEAUTIFUL PICS FROM LOLLA BECAUSE MY PHONE WASN'T BACKED UP!- I will NEVER forgive myself for losing those pics) spent the entire day trying to get my old phone to work.
Overall, Lolla is an awesome time and low key a spiritual experience. I encourage everyone to go at least once. I said this is my last year going but I said that last year so there's that.