The Walking Dead: Season 7 Premier Review
Robert Kirkman and co. wasted no time in the season 7 premiere of The Walking Dead. We see the gang right where we left them: on their knees drenched in sweat and tears and it's finally revealed who Lucille gave her vicious kiss of death to. For my avid comic readers, we already knew that Glenn was going to meet his end but to actually see it in motion, did something to my spirit. When I say real tears welled up in my eyes-who know a fictional character's death can shake you to your core. For starters, this man got his skull bashed in and in his dying breath, literally choking on his own blood, was only concerned with Maggie and assured her he would find her again. What made that part of the scene so heart wrenching was that no matter what or how long they were separated, Glenn and Maggie ALWAYS found each other. From Maggie's perspective, Glenn was her last bit of family. When Hershel and Beth got killed, she had Glenn to lean on for support. Now that he's gone, Glenn's death seemed to spark a dark strength in her. Of course, Glenn will live on through their child but I have no doubt we will see a different Maggie this season. She will definitely be taking more of a leadership role as she has a thirst for blood that won't be quenched until Negan is dead. I'm looking forward to a more dark/strong side of Maggie.
Abraham also had the misfortune of meeting Lucille. But true to his nature and character, Abraham took his beating like a G. At first blow,not only did this man sit back up, head held high and chin up but he looked Negan dead in his face and told him to suck his nuts. A TRUE BOSS! Abraham is one of the characters that translated from the comic to the show well. In the comic, Abraham would've BEEN dead, but I'm glad the show deviated from the comic and kept him around longer AND that his death was more impactful.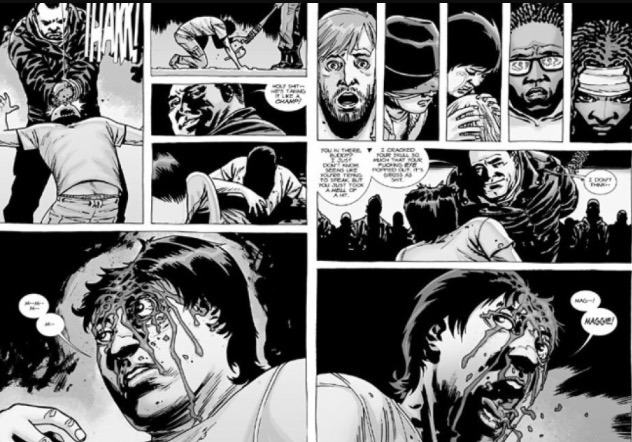 Okay, let's go right ahead and discuss how much I love that Jeffrey Dean Morgan is Negan. Kudos to the casting director. He not only looks the part but definitely acts it. In case you haven't figured it out by now, let me tell you something, Negan is WORSE than The Governor could've ever dreamed of being. See, The Governor was essentially The Joker to Rick's Batman. No matter how we love Rick, and we all know he's the G.O.A.T, he's just as nuts as The Governor. Of course there are lines Rick won't cross like The Governor has (ie. in the comic when The Governor held Michonne captive, he repeatedly raped her, hence her undying hatred toward him), but both wanted to preserve and make a life for their people by any means necessary; Rick just won. Negan on the other hand is well within his right mind which makes him more dangerous and a threat. He a selfish sadistic asshole that will take, take, and take some more. He has a lust and thirst for power and needed to break Rick to assert himself as the superior creature. Because isn't phase by anyone, he still had that "I'm going to kill you" look in his eye that Negan loathes, so what does Negan tell Rick to do, cut Carl's arm off-no big deal. The mf is sick man!
Speaking of breaking Rick, this is the most broken we've seen him. We've seen him snap a couple of times, when he killed those men in the bar, when Lori died, and really when buddy was about to rape Carl. But we haven't seen him broken. I think the final straw was when he was told to cut Carl's arm off in order to save everyone else. I don't think it was the fact he was told to do it, but that Carl calmly told Rick to just do it. Of course it was a mind f*ck that Rick even had to consider mutilating his son, but it was that Carl stepped up and was willing to take one for the team is what broke Rick.
Round of applause to the writers, producers, actors, hell everyone. This was such a powerful and heart breaking season premiere but I'm super excited to see what this season has in store and especially excited to see The Kingdom, King Ezekiel, and Shiva because a tiger in the middle of the zombie apocalypse.
Until next week people.